A guide by Derek Moody

24pp illustrated. Download available now.
Printed edition planned.

Already bought a copy and need
to return to the download page?

You can't buy food this good. It's wild, organic, fresh and free.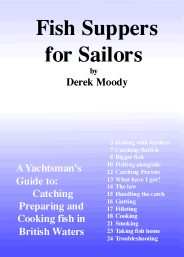 A few fishing techniques for yachtsmen in British waters who want to bring something home from the sea. They are selected for their simplicity combined with a reasonable chance of success. There are many more productive methods open to the specialist angler but that's another pastime.
This is about fish suppers, not just fishing so read how to deal with the catch once you have it, how to prepare, preserve and cook your fish.
---
Test Download
Want to make certain you will be able to read and print the Fish Suppers for Sailors PDF files?
Download a test page (test.pdf) here.
This link may open a new page which you can close afterwards.
---
Contents:
Fishing with feathers and a hand line
Shopping list. How to set up a handline, which feathers to use, keeping the deck safe, knots to use, how to search different depths, how to attract fish other than mackerel.
Catching flatfish
Shopping list. Fishing from the tender.
Bigger fish
Shopping list. Setting up for trailing, spherical leads, paravanes, trailing a sandeel, shad or other lure. Trailing speeds.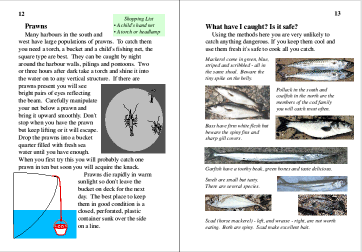 Fishing alongside
Buying tackle suitable for fishing in port. Setting it up. Catching smelt. Fishing at dusk and in the dark. Drifting.
Catching Prawns
Shopping list. Catching prawns in port. Keeping them fresh.
What have I got?
Identifying the commoner catches. What not to eat.
The law
A few notes on keeping everything legal.
Handling the catch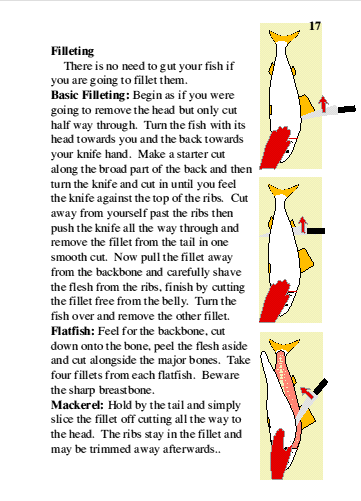 Unhooking fish, killing fish, keeping fish fresh, gutting & filleting.
Cooking
Some recipes tolerant of imprecise boat cookers and sea-cooks distracted by nautical matters.
Mackerel in different seasons eg:


Mediterranean mackerel:
Fry sliced mushrooms and plenty of garlic in olive oil. When ready add flaked grilled mackerel, grated parmesan and equal quantities of white wine and cream. Continue cooking for a few seconds until the sauce thickens then serve with pasta.

Cooking in seawater.
A hearty fish pie for a night passage.
Garfish, smelt, flatfish and prawns, the secret of a good fish stew or curry.
Smoking fish, brining them on board, which woods to use.
Beach bonfires and barbecues, cooking in newspaper, the yard of fish challenge.
Taking fish home
Transporting fish, freezing, cooking from frozen.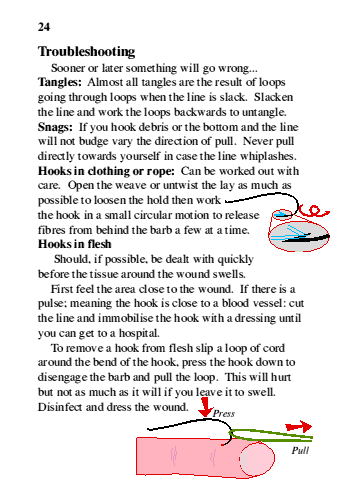 Troubleshooting
Troubleshooting, extracting hooks from clothing and flesh.
Buy Now...
Buy now and get an early fish supper - If you buy a copy now for only £3.95 and leave your email address you will have the current download edition, now, ready for tomorrow's fish supper.
(A printed version on splash proof card is planned and expected to be £7.95 - but that isn't available yet. The delays inherent in the publishing process mean the printed version is at least two years away.)