A guide by Derek Moody

42pp illustrated. Download available now.

Already bought a copy and need
to return to the download page?

Every child's fancy turns to fishing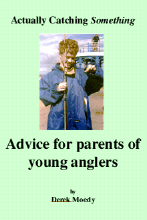 What should a parent do then?
General advice covering all you need for the first few trips and all you need to know to catch a few fish. By the time you've outgrown this booklet your child will either be well on the way to becoming a lifelong angler or else will have satisified the fishing urge and be looking for another pastime.
---
Test Download
Want to make certain you will be able to read and print the Advice for Parents of Young Anglers PDF files?
Download a test page (apyatest.pdf) here.
This link may open a new page which you can close afterwards.
---
Contents:
Safety
Both for your child and for innocent bystanders.
Where to fish
Suitable waters, permission, licences, where to ask.
Buying Fishing Tackle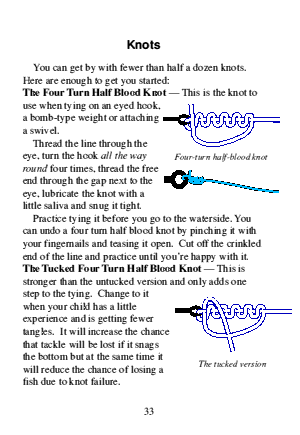 You probably don't want to spend too much money, not until you're sure that angling will not be just a passing fad.
What do you really need? Shopping lists.
Where to buy it.
How it works.
Putting it all together.
Simple knots.
Bait.
The first trip (sea and freshwater)
What to do. What to look for. Handling bait. Handling tackle. Landing fish. Handling fish.
Simple Casting
Safe, gentle, lobs.
Subsequent trips
On which you might catch different or larger fish.
Winter fishing
How to use Christmas Present tackle.
How to use mud!
Make the fish think you're a cow...
Tides
How to understand and use the tide.
Knots
All the (simple) knots you will need.
The hook end
How to put together a range of end tackles to meet the conditions you are most likely to encounter.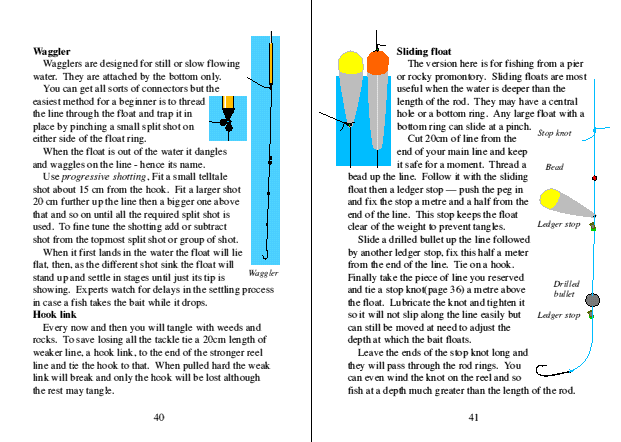 All Parents
This booklet is for the parents of all children who would like to try fishing. Even if you're not an angler and have no idea what to do, you can take your youngster fishing and you may well catch something too.
Buy Now...
Buy now for only £3.95 and be prepared.